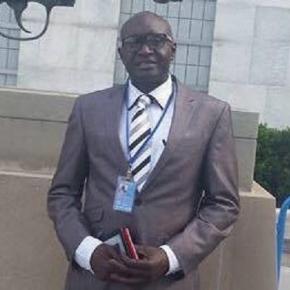 (JollofNews) – A senior Gambian envoy to the United Nations has accused supporters of the opposition United Democratic Party (UDP) of being used by some rogue elements in the diaspora to stage an uprising against the governing APRC regime of President Yahya Jammeh.
Last month, supporters of the UDP headed by the party's national organising secretary, Ebrima Solo Sandeng embarked on a'unauthorised' street protest  at the busy Westfield junction some 12 kilometres away from the capital, Banjul, and displayed a banner with the slogan:  "We Need Proper Electoral Reform".
The protesters also chanted anti-government slogan and demanded the resignation of President Yahya Jammeh.
A few minutes later, they were nicked by security officers and whisked away to various detention centres where they were allegedly  subjected to various forms of tortured resulting in the death of Mr Sandeng.
The Gambian regime has since come under serious international condemnation over the way it responded to the 'peaceful' street protest.
But Samsudeen Sarr, Gambia's ambassador to the UN, said the street protest was an 'uprising' that was sponsored by anti-Gambia government dissidents in the USA and Europe.
Writing on his Facebook page, Mr Sarr added: "I cannot boast about my linguistic skills in spoken Mandingo, but I can definitively say that I have a perfect understanding of every word spoken in the language. Hence, from the video footage circulating on-line about the so-called demonstration on April 14, led by Solo Sandeng, there was nothing he said that suggested anything like demanding for electoral reform in the Gambia.
"That desperate excuse was a last resort of justification after the ultimate uprising failed dolefully. Solo for all I heard him saying in the video footage was his aggressive demand for a change of the government, period."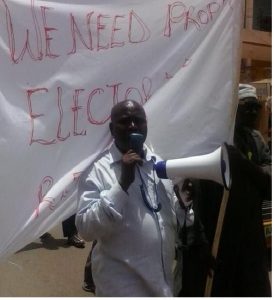 He added that the protesters had posed a huge security threat  to the peace and security of the country in their demand to change the regime and in the manner they wanted to do it.
"Anyone with such intention should expect to die in the process either by accident or incident," he said.
The former head of the Gambian army, who was secretly recorded threatening to shoot and kill the protesters added: "My position was clear and will never change in that if I am in charge of any military or police operation in a country where a bunch of useless thugs are paid and released in the streets to render the society ungovernable without their consideration of how many people could lose their lives in the process, using deadly force will not be ruled out in my master plan."
"My position on the so-called peaceful demonstration never changed since the architects of the anarchy started their conspiracy to the very day it happened on 14th April 2016. That if you want to tear down a country in an effort to change a government that was popularly elected into office, then be ready to face or see anything in that uphill battle including the end of few to many lives, plus of course yours."