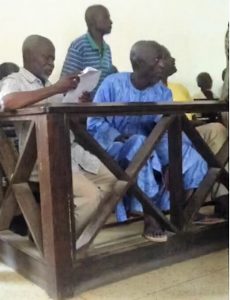 (JollofNews) – A Gambian judge presiding over the high-profile case involving members of the opposition United Democratic Party (UDP) has expressed discomfort at the case.
Justice Ottaba said he is embarrassed at the decision of  the Jammeh regime to arrest and charge the leader of the UDP, Ousainou Darboe, who is also a senior member of the Gambian bar.
Mr Darboe was arrested and charged last month together with over a dozen of his supporters after they took to the street to seek justice for their colleagues who were arrested two days earlier and tortured by security officers resulting in the alleged death of one of the detainees.
Him and his supporters are currently held at the remand wing of the Mile Two prisons on the outskirt of Banjul after they  were denied bail by Justice Ottaba on the grounds that they posed a threat to the country's security and are likely to jump bail due to the severity of the punishment.
But in a phone conversation with Fatou Camara of the online Fatu Radio, the judge struggled to justify his decision to deny the accused persons bail when they are charged with bailable offences.
The judge admitted that while the right to peaceful protest is guaranteed in the constitution of the Gambia, security of the country and the validity of the public order act under which the opposition members were charged  is at stake.
"The ruling was based on the law and security concerns of the country but it is not final and the accused persons are free to appeal at the Gambia Court of Appeal" he said.
"But at the end of the case, I will have to look at all the evidence produce in court and the witness statements before I make a decisio."
The Nigerian born judge admitted that he is moved by the conditions of the opposition supporters and has personally instructed the prison authorities to improve the prison conditions and allow them access to their family members, legal team and medication.
He added that as the matter is already in court, he would like the Inter-Party Committee to intervene and help resolve the matter because "we are all brothers and sisters"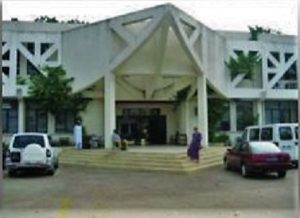 The Inter-Party Committee, which comprises of representatives of all political parties in the country was set up to  promote peaceful political party activities and the holding of free, fair and genuine elections.
"All the political parties have a committee where they meet to analyse their differences and if they use that I think there would be a common ground," he said.
Justice Ottaba said the matter could be settled if political parties in the country are able to resolve their differences.
He added that he would like the matter to be resolved in the interest of peace rather than drag on in court during an election year.