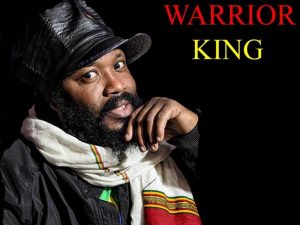 (JollofNews) – A Jamaican reggae star has  dedicated his latest song, Yahya Jammeh, to the president of the Gambia.
Warrior King (born Mark Dyer) whose best known hits include Virtuous Woman, Hold Da Faith and Wanna Give You Love, said he was inspired to write the song after visiting the West African country last July to celebrate the 20th anniversary of the military coup which brought Mr Jammeh to power.
"I was very impressed with how the people love him and how he was very tolerant with Christians and Muslims alike," the Never Go Where Pagans Go singer told the Jamaican Observer.
The singer who will be returning to Gambia in July for this year's anniversary added: "It was my first time in Africa and it was like I am in Jamaica."
Mr Jammeh has come under pressure in recent weeks after a series of unprecedented opposition protests demanding an end to his 20-year rule.
His critics have accused of him of being one of the worst dictators in Africa and on Thursday, members of the European parliament passed a resolution which called on member state to consider  imposing a travel ban or other targeted sanctions on officials responsible for serious human rights abuses in the Gambia.