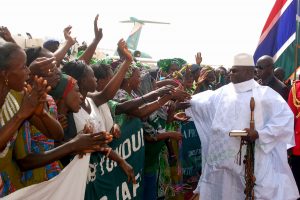 (JollofNews) – After postponing his constitutionally mandated Meet the People's Tour, Gambia's president Yahya Jammeh will Monday begin a 24-day tour which will take him to all five regions of the country.
The tour will avail Mr Jammeh the opportunity to meet with the electorates, know their concerns and work towards addressing them.
It will also give the president the opportunity to assess various development projects in the country that are sponsored by his government and other development partners.
Mr Jammeh and delegation will cross River Gambia to the North Bank Region on Monday morning where they will hold a meeting before proceeding to other parts of the country
This will be Mr Jammeh's last tour before the December presidential elections.
The tour was initially scheduled to start last Thursday but was later moved to Monday without any explanation.