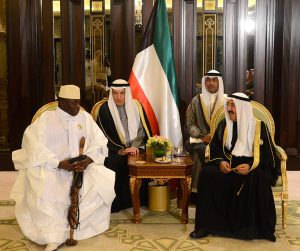 (JollofNews) – The Kuwaiti government has denied reports that it is deploying 320 highly trained soldiers to the Gambia to be in charge of the personal security of President Yahya Jammeh.
Last week, Freedom Newspaper, an online Gambian paper based in the US,  reported that the gulf state was dispatching soldiers "to be the new Presidential Guards for Yahya Jammeh."
The newspaper said the security arrangement between the two countries was made last month during a visit to Kuwait by the First Lady of the Gambia.
According the newspaper, the Kuwaiti guards will provide personal security for Mr Jammeh and his entire family and would be directly answerable to them.
But Hamad Al Mashaan, assistant Kuwaiti Foreign Minister for African Affairs, has described the story as "not true and lacks credibility".
Mr Al Mashaan who attended the official meeting in Kuwait City with the Gambian delegation said "there was no reference whatsoever to the bodyguard allegations."
"The report is not true and lacks credibility,"he said.
Courtesy of Gulf News