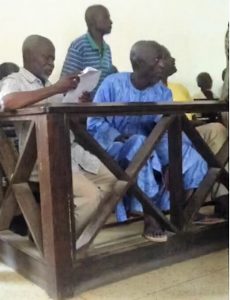 (JollofNews) – Detained members of the Gambia's main opposition United Democratic Party (UDP) who were arrested in April for taking part in an'unathorised anti-regime' protest Monday gave the cold shoulder to the special criminal court in Banjul.
The UDP members who are on remand at the Mile Two prisons said they do not have any confidence in the court and are boycotting what they described as a 'political motivated trial'.
The defendants including their party leader, Ousainou Darboe, are charged with multiple criminal offences including conspiring to commit felony, unlawful assembly, riot, incitement of violence, riotously interfering with traffic, holding a procession without a license and disobeying an order to disperse from an unlawful procession.
They pleaded not guilty to the charges.
Appearing in court on Monday, the defendants who are representing themselves after their lawyers walked out of court last week due  to the 'bias nature of the judge, refused to answer questions from the presiding judge, Justice Dada or cross-examine the prosecution witnesses.
In a short statement issued on behalf of his colleagues, the UDP leader said: "I have stated during the last proceeding that we will not participate in this trial and I have still maintained that position. I have no doubt that the manner and the way this trial is conducted is to accelerate our pretrial conviction."
The case continues.