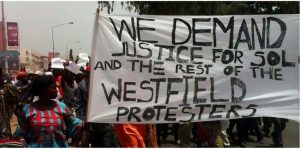 (JollofNews) – A senior police officer in the Gambia has defended their handling of April's opposition protest against the government of President Yahya Jammeh.
Chief Inspector Ebrima Camara of the Kanifing Police Intervention Unit (PIU) said teargas  was fired at members of the opposition United Democratic Party (UD) after they refused to comply with a dispersal order and pelted riot officers with stones.
19 opposition members including the party's leader, Ousainou Darboe, are standing trial for various criminal offences including conspiring to commit felony, unlawful assembly, riot, incitement of violence, riotously interfering with traffic, holding a procession without a license and disobeying an order to disperse from an unlawful procession.
They were arrested after they took to the streets to seek justice for their colleagues who were arrested a few days earlier and allegedly murdered in state custody.
The peaceful march was triggered by the arrest and detention of about 25 members of the party who were out in the streets peacefully demanding electoral reforms.
Several other demonstrators were severely wounded when security officers fired tear gas on the crowd. There was reports that live ammunition was also used by officers.
Giving evidence in court on Monday, Chief Inspector Camara who was among the officers that led the crackdown said the opposition members did not have a permit when they took to the streets.
He told the Special Criminal Court in Banjul that  on Saturday 16 April 2016 between the hours of 11 a.m. and 12 noon, he was instructed with some colleagues to patrol Kairaba Avenue.
He added while they were at Kairaba Police Station, they got information that the opposition members were on the streets.
He said they boarded a truck and drove to Kairaba Avenue where they saw the opposition members walking on foot.
He told the court that one of his colleagues, Superintendent Musa Sanyang, approached the protesters and asked them to produce their permit.
Chief Inspector Camara added: "When they failed to produce the permit, Superintendent Sanyang read out a proclamation saying ' in the name of the President of the Islamic Republic of the Gambia all persons assembled here are ordered to disperse peacefully and go about their lawful businesses. Persons who do not disperse will be liable to disperse forcefully.'"
He said the opposition ignored the proclamation and insisted on proceeding with the protest.
He added: "When we tried to stop them, stones started coming from the protesters and Superintendent Sanyang told the officers to fire teargas at them.
"Some people ran away and others were arrested; and the people who were arrested were taken to the Police Intervention Unit in Kanifing and further police action was taken against them."
Chief Inspector Camara's testimony was not challenged in court as the opposition members are giving a cold shoulder to the judge whom they have accused of presiding over a politically motivated case.