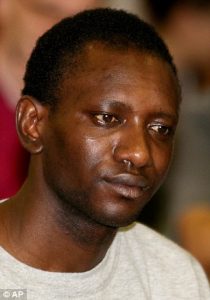 (JollofNews) – A Gambian asylum seeker has been jailed for life after being found guilty of murdering an American au-pair he met on a couch-surfing website in Austria.
The man – who under Austrian law can only be identified as Abdou I – was living illegally in the country when he suffocated and killed Lauren Mann.
Ms Mann, originally from Colorado, was found naked at her apartment in the Wieden district of Vienna on January 25 after her employers told police she had not picked up their child from school.
Austrian police have claimed he may have acted out of jealousy after finding Ms Mann lying next to a 15-year-old Afghan boy.
His trial only began earlier on Wednesday but the jury unanimously found Abdou I guilty of murder and he was jailed for life.
Passing sentence the judge in the case Ulrich Nachtlberger said: 'In a case like this, after all we have heard only the very highest punishment is appropriate.'
He said that the accused had 'shamelessly abused the caring nature and trust' of his 25-year-old victim,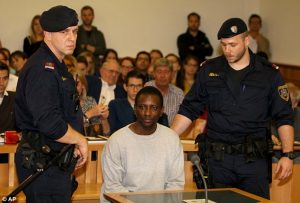 and then lied about what he had done in order to escape the punishment.
He added that his motives for killing her were nothing other than of the 'lowest possible order.'
Ms Mann had offered Abdou I a place to stay through a couch surfing website after he was threatened with deportation by authorities. The pair allegedly started a sexual relationship a short while later.
The day before she was killed, Abdou I found her after a party in her flat lying next to a teenager from Afghanistan. According to DNA evidence, Ms Mann had had sexual contact with both men.
Prosecutors believe he was driven by jealousy to carry out the murder the next day.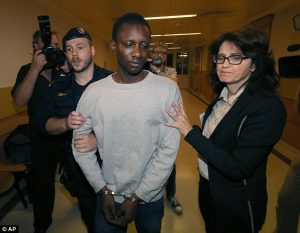 Ms Mann's body was found by firemen who broke down the door to her flat after her employee realised the normally reliable nanny had not picked up her child from school.
Her half-undressed body was found in her flat surrounded by candles face down on a mattress.
Forensic experts say she was forcibly suffocated while having sex, by a pillow that was pressed into her face.
After the murder, prosecutors believe the Gambian tried and failed to set fire to pieces of her clothes in the bathroom, then took some valuables and fled to Switzerland.
He was caught nine days after her body was discovered at a Swiss refugee home and was eventually deported back to Austria in early April.
Abdou I. denied the accusations but as well as the DNA evidence, there was also mobile phone records that showed despite denying that he was in Vienna when she was killed – he had been travelling around the city with her mobile phone.
He had insisted that he was either in Switzerland or Milan at the time of the murder but could not remember exactly which one.
His lawyer Astrid Wagner has said they plan to appeal the verdict. In Austria, a life sentence typically last arounds 21 years before a person becomes eligible for parole.
Written by By Chris Summers and Jennifer Newton
Courtesy of Daily Mail online