---
(JollofNews) – A Gambian opposition activist who led April's demonstration against the regime of President Yahya Jammeh died during enhanced interrogation by security officials, Saihou Omar Jeng, director of operations at the Gambia's feared National Intelligence Agency reveals.
Ebrima Solo Sandeng, organising secretary of the main opposition United Democratic Party (UDP) was arrested on 14th April 2016 after he organised a brief but peaceful anti-government protest at Westfield junction, Serrekunda.
Eye-witnesses said the protesters arrived at the busy Westfield junction some 12 kilometres away from the capital, Banjul, during the afternoon rush hour and displayed a banner with the slogan "We Need Proper Electoral Reform". They also chanted anti-government slogans and demanded Mr Jammeh's resignation.
However soon after the protest began, a contingent of security officers arrived and arrested Mr Sandeng and his associates at the scene.
While's his colleagues were later charged, the state remained silent over his whereabout despite rumours of his death.
But in an affidavit filed on 13th June in opposition to an application made by Mr Sandeng's lawyer in court for him to be produced whether dead or alive, the NIA boss admitted that the activist was killed while he was detained at his agency's headquarters in Banjul.
He added that the government has already launched an inquiry into his death.
He said Mr Sandeng and his colleagues refused to disperse when they were ordered to do so by security officers and had even tried to obstruct the officers who arrested them.
The NIA boss added that after their arrest, the opposition activists were briefly detained at the Police Intervention Unit branch in Kanifing before they were transferred to his custody.
He admitted that while in NIA custody, the activist were denied access to their family members.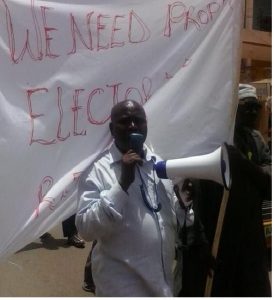 Although Mr Jeng has failed to disclosed how Mr Sandeng died, some of the detainees he was arrested with said he was subjected to hours of severe torture including beatings and kicking by security officers wearing black balaclavas and gloves.
According to court documents signed by Nogoi Njie, Mr Sandeng was bleeding all over his body and was in severe pain the last time she saw him.
"While I was sat in a room after I was mercilessly beaten by the men, Solo Sandeng was brought in. The men have already beaten him and his body was all swollen and he was in severe pain," she said in an affidavit.
"I then asked him to come close to me away from the urine area where he was dumped. When he got to me, he laid flat on the floor and I began to massage his head and body. He was bleeding all over. He then started to sleep and I sat up.
A few minutes later, the cell door was opened and some men walked in and took Solo away. I later heard him screaming. Later while the men where taking me for interrogations, I saw Solo's body on the grass next to a table. He was stripped stark naked and was bleeding profusely. He was groaning in pain and could hardly move his head. After I was subjected to more beatings in the courtyard, I saw the security officers dragged Solo's body behind a building where he was again subjected to more beatings and I could hear him groaning."