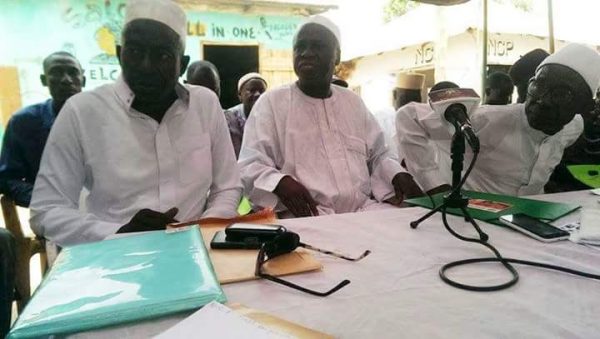 (JollofNews) – A former presidential candidate for the defunct  People's Democratic Party (PDP) who once called for President Yahya Jammeh's impeachment is announced as the presidential candidate for the National Convention Party (NCP) in the December 1 election.
Dr Lamin Bolong Bojang's candidacy was announced to journalists on Saturday in Brikama.
Dr Bojang, 62, told reporters: "I am ready to sacrifice my life, everything, in the interest of Gambians.  we want continuous peace and stability in the Gambia, we are not in a revenge mood."
Who is Dr Lamin Bolong Bojang?
He was born in 1954 and attended Crab Island and Gambia High Schools between 1968 and 1974. In 1974, he won a scholarship to study medicine in Egypt. After qualifying as a doctor, Bojang returned to the Gambia and was hired as medical assistant in 1982. After a period in Nigeria, he was registered as a doctor in the Gambia and established a private practice in Brikama.
Years ago, Dr Bojang wanted to join the opposition People Democratic Organisation for Independence and Socialism (PDOIS) but he was not impressed by its left-wing politics and instead formed his own party, the PDP in September 1991.

His party didn't do well in the 1992 presidential and parliamentary elections and he came fourth out of five presidential candidates with only 6 per cent of the votes. His party also had only 7 per cent of the votes in Kombo Central  in the general elections.
From that time, he stayed out of politics and in the 1996 presidential election, he openly supported President Yahya Jammeh, who had been in power for two years following the 1994 military takeover and was running for president as a civilian for the first time.
Five years later, Dr Bojang retracted from his 1996 support for Jammeh and in February 2001, he called for the impeachment of the Jammeh government for its inability to govern effectively. But again in September 2003, he said his party, the PDP, might enter into an alliance with the ruling Alliance for Patriotic Reorientation and Construction. However, nothing was heard about this bid and his party effectively disappeared from the political scene.
NCP
The NCP has been dormant for the past 15 years when its late leader and founder Sheriff Mustapha Dibba supported Yahya Jammeh after losing the 2001 presidential election with only 3.8 per cent of the votes.
Mr Dibba founded the NCP  after  resigning  as the Gambia's first vice president in 1975. The party  became the main opposition party in the Gambia after the 1977 elections .
Dibba continued to lose to then President Dawda Jawara in the 1982, 1987 and 1992 elections.
Following Jawara's overthrow in 1994, the NCP, along with other parties were banned by Jammeh's military government. The ban was lifted in 2001 allowing the NCP to participate in that year's presidential election.