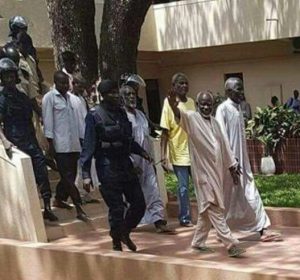 (JollofNews) – Mr President, last night as I was scuffing a 12 inch vegetarian pizza I ordered from my local takeaway shop, a friend of mine sent me a picture of the leadership of the opposition United Democratic Party (UDP) being escorted in handcuffs to a waiting prison van.
As I looked at the faces of these men including the party's leader, Lawyer Ousainou Darboe, I felt a shiver running down my spine. I then started to feel guilty and ashamed of myself for not doing or saying anything to help free this harmless souls who are spending this blessed Ramadan away from their loved ones.
As I contemplated what answers to give if I were ever asked in future about what I did when Gambians were being oppressed, I remembered a hadith in which Muslims were warned that they will never attain salvation unless they tell the truth to a tyrant and call him towards good. And suddenly, the pizza felt cold and sour in my mouth.
It was at that moment that I decided to join the thousands of other Gambians and friends of the Gambia to condemn Mr Darboe's persecution and continuous detention.
Mr Darboe and over a dozen of his followers are currently remanded at the Mile Two Prisons after a high court judge reluctantly refused them bail even when the offences they are charged with are bailable.
They were arrested on April 16 after they took to the streets to demand justice for their supporters including Solo Sandeng, who were arrested two days earlier after they embarked on a peaceful protest for electoral reforms and your resignation.
Barely 24 hours after their arrest by officers of the Police Intervention Unit and subsequent transfer to the feared National Intelligence Agency's headquarters in Banjul, the opposition supporters were subjected to brutal torture including beatings and kicking resulting in the death of Mr Sandeng.
There was also reports that some female detainees were sexually assaulted by security officers in black uniform and balaclava, who according to eye-witness testimonies, were acting on orders to torture and kill them with impunity.
As rumours of the torture of the opposition members begins to circulate, your government decided to do what it does best- remain silent and pretend that there was nothing wrong in arresting, torturing and killing a political opponent.
While I agree with your position that Solo Sandeng and others committed a criminal offence when they took to the streets, however, it was callous and criminal for them to be tortured and murdered. And the UDP leadership was right to take to the streets to demand justice.
As a peace-loving man who have spent all his life fighting injustice and standing up for the oppressed, Lawyer Darboe never called for an uprising against your regime. And while he was undoubtedly upset and outraged about the torture and murder of his party members, he never allowed his temper to get the better of him. He took to the streets, armed with only the Gambian flag. But instead he was greeted with teargas, batons and boots.
Mr President, every right thinking Gambian in Mr Darboe's shoe would have done exactly what de did for you cannot arrest and kill a son in cold blood and expect the father to sit at home and wait for you to return his body when you feel like without asking questions.
Mr Darboe was protesting against murder, a crime so evil and is condemned by all scriptures and societies in the world including ours. Therefore, arresting him and his supporters tantamount to nothing but bullying and a mockery of our judicial system. It is a well calculated move by your regime to punish them as  you have always done to anyone who have the balls to challenge you, there by silencing them in your quest to become king of our land.
Mr President, you once told Gambians that you will always interfere with the judicial process of the country and Mr Darboe's arrest and prosecution exposes you and your government's lack of respect for  the democratic values of our country and its people.
I am not surprised by the step you have taken because I have since 1994 witnessed a breath-taking rise of your evil regime that lives and rule by the gun and shows no mercy in crushing its political opponents and critics.
Mr President, let me remind you that as a doctor man who likes to show anyone who cares what a devout Muslim you are, you have sworn by the Qur'an, the holy book of Allah, to govern the people according to the dictates of the Gambian constitution. But instead, you are abusing the constitution and treating Gambians like a piece of dirt.
You have transformed yourself into a god that all Gambians must worship or die and have confused yourself with the believe that you love the country more than every Gambian.
Mr President, how do you sleep at night after you took it upon yourself to play the role of the angel of death and took another man's life leaving his wife widowed and children orphaned? How do you sleep at night when the very scripture you carry condemns murder and spells out the severe punishment Allah will inflict on oppressors and murderers? Do you ever look at yourself in the mirror and ponder about the evils of your regime and what the future may hold for you?  How can you claim to be a peaceful man when all what you do is oppress and bully people for your own selfish interest.
Mr President, you have to know that you may have all the powers you want, but people will always see you as the son of Asombi Bojang who will never be bigger than the Gambia. People like Mr Darboe have spent their entire lives nurturing love and peace in the Gambia and it is foolish for you to even think that you love the Gambia more than them. Their love for the country is not driven by selfishness and greed. That is why they refused all the ministerial offers you made to them.
By the way, I am not a UDP supporter, but I cannot fault Mr Darboe's love for the Gambia, his political ideology and commitment to beat you fair and square in the polls and peacefully returned the country to democratic rule.
Mr Darboe is a true servant of the Gambian and if you think that having him remanded at Mile Two prisons will kill his desire to free the Gambian people from the clutches of your dictatorial regime, then you have to think again mate.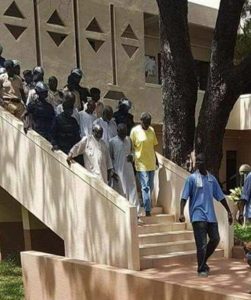 Like all true freedom fighters, Mr Darboe knew that fighting against dictatorship is never easy and that he has to passed through pain and sufferings like Nelson Mandela in order to free the Gambian people. The more you persecute him, the stronger and more resolute he becomes. He is ready to be a political martyr.
That is why is he is giving the cold shoulder to the sham trial and also made it clear to you and the judge that  he is willing to become a sacrificial lamb of your regime to ensure the liberty and dignity of the people and that he is ready to suffer for others not to suffer.
Mr President, remember that it is easier to move mountains than the heart of men. And despite you being the commander-in-chief of the Gambian armed forces, and owning everything including the wind in the country, you can only do three things to politicians like Mr Darboe – arrest and detain him, kill him or set him free.
Remember that wise and powerful men earn the respect of people not because they are strong, but because they do the right thing. You can never break Mr Darboe's spirit no matter how long you punish him for standing up to his believes.
Instead of damaging your image beyond repair both nationally and internationally, I urge you to do the right thing by releasing him and prosecuting all those officers who tortured and killed Solo Sandeng in cold blood.
It is never too late to do the right thing. Let Darboe go.
Written by Efangbondi Diame