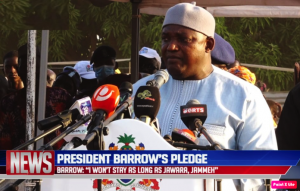 President Adama Barrow has defended the controversial alliance between his National People's Party and the former ruling Alliance for Patriotic Reorientation and Construction of former president Yahya Jammeh.
The alliance generated condemnation from politicians, victims and human rights activists who described it as a total betrayal to the change that was internationally acclaimed. Many local and international commentators expressed disappointment in the president for embracing the evil that everyone turned their back on in 2016.
But in his first public comment on the alliance Tuesday as he tours the country, President Barrow said it is in the interest of reconciliation, security and peace of the country.
"I want to tell the APRC that I am not the only one who is happy about this alliance but the whole country is happy because it is the first time that the parties that succeeded each other in power have all come to form one platform," Barrow said of PPP, APRC and NPP. "It has never happened anywhere in the world except Gambia and it is in the supreme interest of reconciliation, national security and it will ensure stability in the country. I thank the APRC for deciding to join me. I urge all the parties that are behind me to maintain discipline and avoid insulting their opponents because on December 4 Gambians are going to vote for the party that is peaceful," he said.
Darboe
The Gambian leader then turned to his own political Godfather: "I want to tell the talkers including my father that they have their house and I have my own house. Let him mind his house and allow me to mind my house because every father wishes to have a son who will be able to build his own house. So let them leave me to run my house because I know what I am doing more than they do."
He said since his father has refused to take voluntary retirement, the NPP and APRC alliance will force him into retirement whether he likes it or not. "But let him know that even if we pension him, we will give him all his retirement benefits," Barrow joked.
Written by Omar Bah