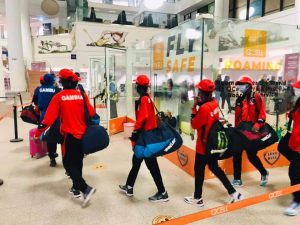 The Gambia women's U-20 Scorpions will fly out to Benin tonight following successful preparations ahead of the team's return leg with Burkina Faso in the FIFA Women's U-20 World Cup qualifiers.
The delegation numbering 33 is being headed by the President of the Women's Football Association, Ms Sainabou Cham, and the Technical Director of The Gambia Football Federation (GFF) Sang John Ndong, who will serve as a technical adviser.
The group also consists of 23 players, 7 officials and a media attaché in the person of Amadou O. Bah.
The Gambia will be hoping to overturn a 1-0 home deficit in a match that will be played at a neutral venue because of CAF's decision to ban the Burkina Faso national stadium from hosting international matches.
List of squad…
Aminata A. Darboe, GK, Police FC.
Binta Jarju, DF, Brikama United.
Wuday Colley, DF, Greater Tomorrow.
 Jarra Jabang, DEF, Abuko United.
Ya Awa Jarju, MF, Kinteh's FC.
Sibbi Kuyateh, MF, Brikama United.
Haddy Wally, FW, Immigration FC.
Kumba Kuyateh, MD, Red Scorpion.
Teddy Sireh Jatta, FW, Berewuleng FC.
Fatoumatta Jammeh, FW, Red Scorpion.
Henna Bah, DF, Abuko United.
Kaddy Jarju, FW, Future Bi FC.
Fatoumatta Erma Mook, MD, Police FC.
Diminga Sylva, DEF, Immigration FC.
Mariama Cham, MD, Immigration FC.
Salimata Saidykhan, FW, City Girls FC.
 Adel Mendy, MD, Red Scorpion.
Fatou A. Joof, GK, Lower Nuimi FC.
Haddijatou Jallow, MD, Raptim FC.
Haddijatou Drammeh, FW, Red Scorpion.
Sirreh Korteh, MF, Brikama United.
Ramatoulie Dukureh, GK, City Girls FC.
Juwana Colley, DEF, Koita FC.