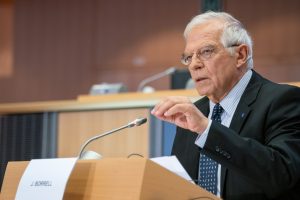 (JollofNews) – The European Union will send election observers mission to monitor presidential election in the Gambia scheduled for Dec. 4, on the invitation of Independent Electoral Commission, the bloc's foreign policy chief said in a statement on Thursday.
"Anchoring the democratic change that the Gambian people achieved in 2017 continues to be on top of the EU agenda. This will be the first EU mission to observe a presidential election in The Gambia and its deployment reaffirms our commitment to supporting the consolidation of democracy," EU High Representative for Foreign Affairs Josep Borrell said.
"Under the leadership of Chief Observer Mr Neuser, the EU EOM will provide an independent, evidence-based assessment of the electoral process and work together with Gambian citizens to consolidate the democratic advancements," he said.
The EU will send 9 election experts who will arrive in Banjul on 27 October and will be joined on 4 November by up to 16 long-term observers who will be deployed in the country's 7 regions.
The EU observers will issue a preliminary statement and hold a news conference in Banjul after the elections and will also issue a final report with recommendations for future elections after the finalisation of the electoral process.