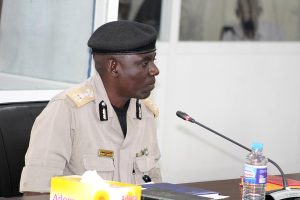 Ansumana Manneh, Director General of the Gambia Prisons Services              (JollofNews) – Gambia's Prisons Director General Ansumana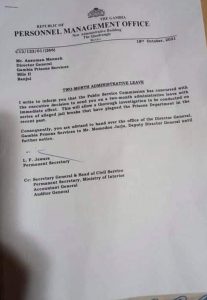 Manneh has been placed on administrative leave, pending "a full investigation into series of alleged jail breaks that have plagued the Prisons department."
A statement from the country's Public Service Commission said it has concurred with the executive decision to place Mr Manneh on a two-month administrative leave with immediate effect while the investigation is being carried out.
"This will allow a thorough investigation to be conducted on series of alleged jail breaks that have plagued the Prisons Department in the recent past," the statement added.
Consequently, the statement continues: "You are advised to hand over the office of the Director General, Gambia Prisons Services to Momodou Jarju, deputy director General until further notice."
Manneh has many years of experience in the prison service and had previously served as director of Old Jeshwang Prisons.
He was appointed to the post in February 2017 following the dismissal of David Colley.