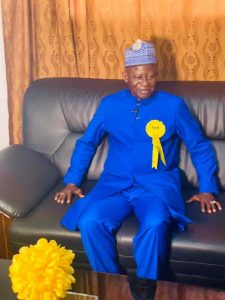 A leading opposition leader in the Gambia has publicly declared his assets for scrutiny ahead of next month's presidential election.
Ousainou Darboe, 73, and leader of the United Democratic Party (UDP) who is seeking to unseat President Adama Barrow, made the asset declaration in accordance with the country's electoral laws.
According to records, the veteran lawyer who has been contesting presidential elections in the Gambia without success since 1996, owns a D600,000 property in Kotu, a leased property at 57 Kairaba Avenue acquired in 1975 worth approximately D10,000,000 and an undeveloped plots of land in Kembujeh, Serekundanding, Tanji Batosilokang, Tanji Salanding, Sanyang, Gunjur, Sukuta, Bansang (kongko santu) acquired in 1989, 1986, 1987, 2015, 1999, 2015, 2015, 2021.
The asset declaration further showed that Mr Darboe who previously served as Foreign minister and Vice President in the government of President Adama Barrow also owned a number of vehicles including a D850,000 Toyota 4 runner acquired in 2016, a D700,000 Toyota Highlander acquired in 2018, a D1.5 million Toyota Prado acquired in 2020, a D350,000  Mercedes Benz acquired in 2017 and a D150,000 Ford F150 acquired in 2020.
Mr Darboe also has a bank balance of D774, 237. 23 with Trust Bank Ltd,  D6, 555. 06 with Access LTD, D12,403,73 with Guaranty Trust Bank and US$11, 942. 56 with Bank of America .
He also owns government bonds, Treasury Bills and shares including D19, 200 Treasury bills at Trust Bank Ltd standing.