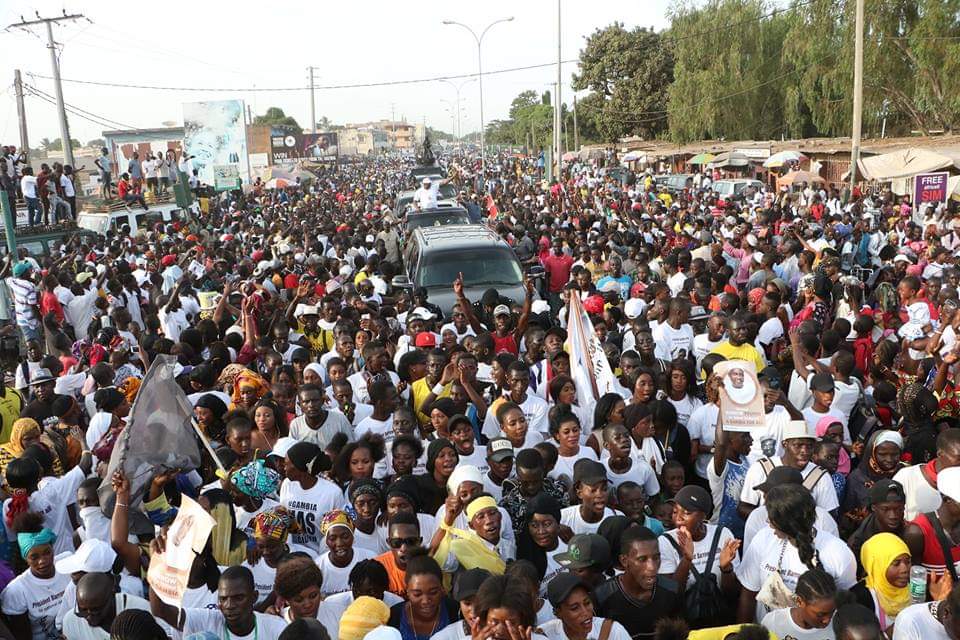 President Adama Barrow of the Gambia is heading to the country's electoral commission to file his nomination for next month's election.
Mr Barrow 56, who is eyeing a second presidential term, is being accompanied from Banjul by senior government officials and thousands of his National People's Party (NPP) supporters.
As part of the requirements, Mr Barrow will submit for scrutiny a declaration of his assets and show proof to the commission that he has got the backing of 5000 registered voters from various regions of the country. He will also pay a monetary deposit and proof of his income tax clearance.
The event is overshadowed by the death of at least five supporters of the President's party who were killed Wednesday evening in a traffic accident while travelling to witness his nomination.
Born in Mankamang Kunda, a village near Basse Santa Su, Barrow attended Crab Island Secondary School and the Muslim High School in Banjul.
He then worked for Alhagie Musa Njie & Sons, a Gambian energy company, where he became a sales manager. Moving to London in the early 2000s, Barrow studied for qualifications in real estate and concurrently worked as a security guard.
After returning to the Gambia in 2006, he founded Majum Real Estate and was its CEO until 2016. He became the treasurer of the opposition United Democratic Party, and then became its leader in September 2016 after the previous leader, Ousainou Darboe – his main challenger in this election – was jailed.
Barrow was then chosen as the UDP candidate in the 2016 presidential election. It was later announced that he would stand as an independent with the backing of the opposition group Coalition 2016 (a coalition supported by the UDP and six other parties).
Barrow won the 2016 presidential election with 43.34% of the vote, defeating long-time incumbent Yahya Jammeh.
He was initially expected to serve for three years as part of the Memorandum of Understanding signed in 2016 by all coalition parties who united before the polls.
But despite his earlier promises to respect the terms of coalition agreement, the president had a changed of heart and insisted on serving the full constitutional mandated five-year presidential term. He later registered his own NPP party.
To bolster his reelection chances, Barrow and his government have embarked on a number of projects to improve the lives of Gambians including the construction of bridges and road networks.
However, his government is accused of corruption and failure to combat crime and rising youth unemployment.