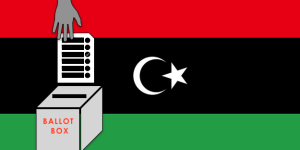 Libya's presidential election which was scheduled for December 24, 2021 has been postponed until January 24th next year, according to the country's electoral body.
The Libyan High Electoral Commission on Wednesday decided on deferring the vote after the parliament concluded that holding it on December 24 as originally scheduled is impossible.
"After consultation with the parliament, the High Electoral Commission proposes the postponement of the first round of the election until January 24, 2022. The parliament will be responsible for adopting the necessary measures to tackle obstacles to the electoral process", the electoral commission said in a statement to APA on Thursday.

The chairman of the parliamentary committee, Al-Hadi al-Sghayer, who, in a report to the Speaker of parliament said after assessing the technical, judicial and security situation ahead of what would have been a landmark election, "recognised the impossibility of holding the election on the date provided for by the electoral law".

The presidential vote would have been Libya's first democratic elections in the north African country in five decades and carried with it the hope of the Libyan people to end the protracted political crisis which arose since the 2011 death in an armed uprising of Muammar Gaddafi. 
The candidates for the election include Gaddafi's son, Seif al-Islam.
Renegade warlord Khalifa Haftar, who controls the east of the divided country, and current Prime Minister Abdelhamid Dbeibah are also named as candidates. 
According to Saleh Sarar, a former correspondent of the African Press Agency in Tripoli, the postponement was widely expected, prompted by the security challenges the electoral commission would have to deal with when holding elections in a country mired in conflict.
The North African country, struggling to turn its back on a decade-long civil war remains divided between a government based in Tripoli and another in the eastern city of Benghazi.
"There is also deep-seated disagreements between parliament and some other state institutions like the high state council and the government of national unity split over the suitability of holding the vote in December" Sarar says.