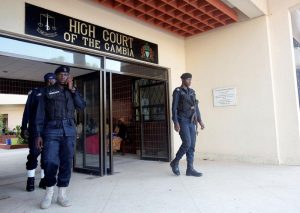 Gambia's Supreme Court has struck out the election petition filed by the opposition United Democratic Party (UDP) challenging President Adama Barrow's victory in the December 4th presidential election.
After two adjournments, the UDP petition filed a week after Barrow was declared the winner of the polls, was dismissed by the Supreme Court on Tuesday morning after failing to comply with Rule 11 of the Election Petition Act which stipulates that person or institution petitioned should be served a notice of petition.
The court said the UDP as the petitioner in this case had not petitioned Mr. Barrow, a principal party to the case.
The Supreme Court has ruled that for failing to do this, the UDP should pay D100,000 $2,000 to President Adama Barrow as a party to the case which challenged his re-election to the presidency on December 4th.
The atmosphere around UDP supporters at the court compound in Banjul was subdued as they witnessed the ruling by the judge.
The UDP may launch an appeal against the ruling.
Barrow defeated his main challenger Ousainou Darboe of the UDP and four other contenders to reclaim the Gambian presidency after polling 53 percent of the vote.
Darboe who was vying for the presidency a fifth time, secured 27 percent of the ballot in second place.
The UDP, alleging widespread voter fraud and illegal inducement of prospective voters during the campaign had dismissed the exercise as a charade and filed a petition at the Supreme Court, challenging its outcome.