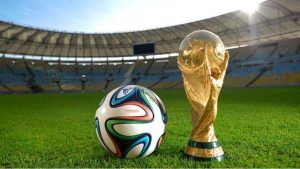 The Africa Cup of Nations tournament which starts in Cameroon on January 9th, 2022 may be the biggest football showpiece the continent has to offer but there is a raging debate over why the media outside Africa does not give it the coverage it so richly deserves.
From passive, nonchalant mentions to lukewarm coverage by the world's biggest media organisations at best past Afcons have not attracted much attention from outside Africa particularly with journalists in the so-called football powerhouses of Europe and South America.
The 33rd edition of the 24-team tournament is already generating talk about why this best showcase of African football is not being given the outside respect it so richly deserves from Foreign journalists.
"It's instinctive, the foreign media still view anything African as something to interrogate and denigrate", a Nigerian football commentator tells the African Press Agency.
"European journalists report Afcon as if players featuring there should be better off remaining with their foreign clubs than taking part in an unfancied competition. This is painfully disrespectful", he adds.
He says they are sometimes so derisive in their reference to the tournament that Africa's finest footballers in their leagues are often asked if they are passionate about featuring in the Afcon tournament.
With its $4.5 million prize money for the victor, the tournament may still be behind other continental competitions like the Euros and Copa America, but this does not make it less superior in relation to quality on the pitch, the Nigerian football pundit observes.
Leading the charge against this petulance from the rest of the world's football fraternity and media are retired players Patrick Vieira and Ian Wright.
Vieira, a former France international of Senegalese extraction and Wright who made 33 appearances for the England national team in the 1990s may relate to Africa differently but feel the same pulse about Afcon being a continental tournament which provides the ultimate holy grail of African football.
Both men believe the Western media should be more circumspect about its past coverage of Afcon because it attracts some of the world's best players who call Africa home.
Wright recently came out in support of Vieira's criticism of the Western media's almost condescending indifference to this competition which attracts African players plying their trade in the big leagues of Europe and beyond.
Days earlier Vieira took the non-African media to the cleaners for not recognising the passion and importance attached to the Afcon by players and their fans on the continent.
A coach with the English top flight side Crystal Palace, World Cup and Euros winner Vieira said he understands and accepts losing his African players such as Jordan Ayew (Ghana), Cheikhou Kouyate (Senegal) and Wilifried Zaha (Ivory Coast) to the 2021 tournament in Cameroon.
He said important as other competitions are for the players, the passion to represent their countries at such a flagship tournament cannot be replicated anywhere else and should therefore not be trivialised on the altar of club football.
His opinion was shared by the 58-year-old Wright who said Afcon should be given pride of place in world football and seen in the same important light as the Euros and the Copa America being a continental tournament followed by tens of millions of people around the world.
 "Loads of the best players in Europe right now are African…and if we love them at club level why can't we love them at international level like their counterparts across the globe?" Wright said. 
He said it is hard to imagine why the Afcon tournament constantly receives so much undeserved criticism football establishments outside of Africa when its players such as Mohamed Salah of Egypt (Liverpool), Riyad Mahrez of Algeria (Manchester City) catch the eye in the English Premier League for example.

He praised the stand by Vieira and Afcon-bound Ivorian player Sabastien Haller for their position on the issue of foreign-based African footballers choosing country over club for such an important showpiece event which comes around every two years.

 "This is why it is important to have a black manager who can let people understand where his roots are and how important this tournament is for African people" he added.