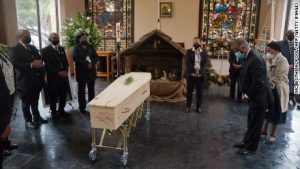 South African President Cyril Ramaphosa on Saturday gave the late Archbishop Emeritus Desmond Tutu a hearty send-off at St Georges Cathedral in Cape Town, saying he was grateful to "Tutu for his efforts in helping build the nation."
Ramaphosa was speaking during his eulogy at Tutu's state funeral in the cathedral where his remains would also be interred after his cremation.
He passed away last week at the age of 90, leaving behind widow Leah and four children.
"The most fitting tribute we can pay him is to take up the cause of social justice for which he tirelessly campaigned throughout his life," Ramaphosa said in his eulogy.
He added: "Tutu has left a formidable legacy and we are enormously diminished by his passing. Though we say goodbye to him today, with the heaviest of hearts, we salute our beloved Arch for all that he did to help build this nation."
According to Ramaphosa, Tutu had been the country's "moral compass, national conscience, and an exemplary leader."
"Even after the advent of democracy, he did not hesitate to draw attention — often harshly — to our shortcomings as leaders of the democratic State," Ramaphosa said.
He added: "The Arch bequeathed us many things. He saw our country as a 'Rainbow Nation,' emerging from the shadow of apartheid, united in its diversity, with freedom and equal rights for all."
The South African leader said Tutu "showed us the importance of having the courage of one's convictions, solidarity with the oppressed, delivering on the promises made by the Constitution, and many others."
The funeral was attended by several dignitaries, including former president Thabo Mbeki and wife Zanele, former president Kgalema Motlanthe and wife Gugu, former deputy president Phumzile Mlambo-Ngcuka, Lesotho's King Letsie III, Reverend Allan Boesak, and Deputy Chief Justice Raymond Zondo.