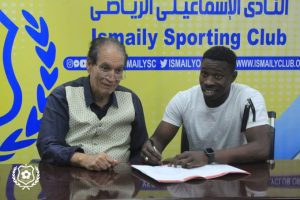 Egyptian Premier League outfit Ismaily SC have officially announced the signing of Sekka El-Hadid's Gambian winger Saikou Conteh.
Ismaily, regarded as one of the biggest clubs in both Egypt and Africa, having won the CAF Champions League back in 1969, have been suffering in the Egyptian Premier League as of late.
One of only seven clubs with an Egyptian Premier League title to their name, have barely escaped relegation last season, and during this season, the situation hasn't changed much as they currently lie 17th on the table with only two points from seven games.
In hopes of turning their season around, the newly elected Ismaily's board of directors have broken the bank to attract new names to the club, especially after losing the likes of Benson Shilongo, Justin Shonga, and Shokry Naguib.
The club first made its arguably biggest signing in recent years after attracting in-form Bolivian international striker Carmelo Algarañaz, who arrived from Club Always Ready.
Another foreigner will join the club this January in Gambia international winger, Saikou Conteh, who joins from second-division side Sekka El-Hadid.
Conteh started his career in the Gambian domestic league, representing Steve Biko FC in 2014, but one year later, he made another step in his career, moving countries to Senegal where he played for ASC Jaraaf.
One year after that, Saikou arrived in Egypt through Arab Contractors; however, he didn't see much playtime, making only one appearance for the Contractors.
The Gambian then returned to Senegal once again, joining Teungueth FC this time, and in 2020, the forward decided to return to Egypt, signing for Second Division's El-Minya.
In the winter of 2020, Saikou made his last move before joining Ismaily, as he moved to Sekka El-Hadid from El-Minya, spending a year among the team's ranks.
The 26-year-old put pen to paper on a four-year deal with Ismaily, his contract expires in the summer of 2026.
Writing by Ahmad Gamal Ali
Source: kingfut