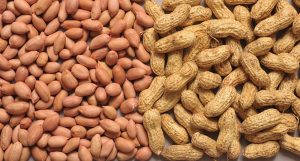 The decision to suspend Senegal's groundnut export tax was made by President Macky Sall, during the last cabinet meeting.
Official forecasts indicate a national production of 1.6 million tons of peanuts at the end of the 2021-2022 agricultural season.
But because of the poor quality of the harvest, exporters and collectors are not rushing to buy Senegal's main cash crop.
To boost exports, the government has decided to suspend the 40 CFA francs per kilogramme export tax, according to a statement emerging from the Council of Ministers.
The groundnut export tax brought in nine billion CFA francs into Senegal's state coffers.
The groundnut marketing season began on 25 November 2021.
The floor price of a kilogram of groundnut was set at 250 CFA francs.