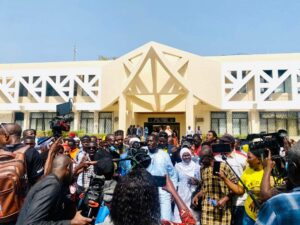 Gambia's High Court dismissed a legal challenge to Independent Electoral Commission's recent decision to reject the nomination of Momodou Sabally on Friday, ruling that the case lack merit.
Mr Sabally is seeking an order to set aside the decision of the Independent Electoral Commission – IEC to disqualify him from contesting in the April 9 National Assembly elections.
The court dismissed the case on the grounds that the IEC's returning officer, Anthony Roberts relied accurately on the provision of section 90 (1) E of the Constitution in rejecting Sabally's nomination, Justice Francis Apongabuno Achibonga said.
According to Justice Achibonga, a Commission of Inquiry was instituted to investigate the financial dealings and other related matters of ex-president Yahya Jammeh and his closed associates and later came up with its findings and recommendations which was submitted to the President and published in line with the required law with specific findings against Momodou Sabally.
"Sabally made cash withdrawal of over one million Dollar from the National Youth Development Fund and International Gateway Account. Cash of that magnitude is an asset to the State and such an act was detrimental to the State and it was a conduct prejudicial to the public interest.
There were findings made against Sabally by the Commission of Inquiry, which recommended for him to be banned from holding public office or become a Director of any State-Owned Enterprise and therefore the Commission acted within its powers in rejecting Mr. Sabally's nomination," Justice Francis Apongabuno Achibonga wrote in the judgement.
"Sabally is not qualified to contest for the National Assembly seat since he has been banned from public office for ten years," Justice Achibonga declared.