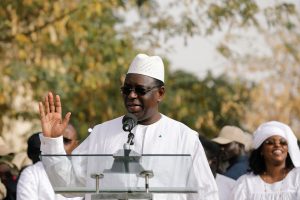 During a meeting held on Saturday in Dakar, the president of the Coalition dubbed 'Benno Bokk Yakaar' (BBY, united for the same hope) revamped his troops to conquer the "difficult" electorate of the country's capital for the July 31, 2022 legislative elections.
Macky Sall does not admit defeat despite the loss of the last local elections in Dakar. The presidential side had invested a lot of resources to retake the mayor's office in the Senegalese capital, but the opponent Barthélemy Dias finally won over Health Minister Abdoulaye Diouf Sarr. Despite this, President Sall told his supporters and allies in Dakar that the capital is not an insurmountable obstacle.
"We have always won elections in Dakar. Already with the Coalition Macky2012, we came first in the first round and we won the second round with Benno. In seven elections, we won five," he told his comrades.
Macky Sall believes that BBY can turn things around in the Dakar region, representing about 40 percent of the national electorate. If the presidential movement largely lost last January 23 in this locality, it is because of internal quarrels within the party, he regretted.
He calls on the leaders of the movement for humility, unity and proximity to the population, noting that his record in the capital pleads in his favor. He cites in particular the Bus Rapid Transit (BRT) project and the construction of the Regional Express Train (TER), among others.
In addition, the president of BBY has appointed Amadou Ba as delegate general for the collection of controversial sponsorships. Macky Sall thus renews his confidence in his former Minister of Economy and Finance and then of Foreign Affairs, after having appointed him national coordinator of the presidential coalition during the last local elections.
BBY, which came in first with less than 50 percent of the vote in this election, wants to avoid at all costs cohabitation in the National Assembly after the opponents of Yewwi Askan Wi (Free the People) took important cities and towns in the country. Macky Sall has his work cut out for him, who has not clearly stated his ambitions for the 2024 presidential election, even though many of his opponents keep reminding him that he is not entitled to seek re-election.