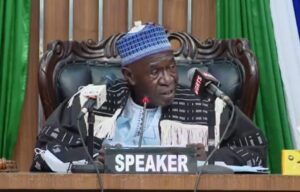 There are certain conducts not becoming of a child much more a President, especially of a President with myriads of advisers that are paid by the poor taxpayers of this country to make decisions that will reflect or accord with the wishes and aspirations of Gambians – if not the whole country, but the majority of the country.
The Gambian President has at least 6 published Presidential advisers and 19 cabinet ministers, yet the President out of the rich intellectual pool that this country boasts of, both internally and externally, chose to recycle the worsts of this nation's most recent past for its best positions of the present.
The nomination and recommendation by Gambian President Adama Barrow of Fabakary Tombong Jatta and Seedy Njie, for speaker and deputy speaker of the National Assembly of The Gambia respectively, and of Maimouna Ceesay Darboe, Fatoumata Jawara, and Kebba Lang Fofana as members of the honored National Assembly, has proven that the Gambian President does not understand, appreciate or care for the wishes and aspirations of the Gambian people. Our desire for a liberal democracy, that recognises, establishes and supports appropriate separation of powers and proper adherence to the rule of law. These are aspirations that underpinned the sacrifices of many Gambians with a desire to set The Gambia on the democratic path in 2016.
The current Speaker and his deputy are two people that brazenly went against our common aspirations and attempted to thwart our collective wishes and aspirations as Gambians in those trying times of post verdict 2016. Fabakary Tombong Jatta and Seedy Njie, two people, that the majority of Gambians had condemned unfavorably to the pages of history. It is thus irreconcilable with the aspirations of many Gambians that such people should occupy the front seats of our new democracy.
"To whom much is given, much will be required. – Luke 12.48
President Barrow has been given the latitude of having more Presidential Advisers than any other President in the history of this country. Thus, the people of this country reasonably expect more and much more from him than any of his predecessors.
As a result, our people expect novelty and creativity in the contribution of President Adama Barrow to the development of our politics and democracy. We expect something new, refreshing and riveting, such as appointments tapped from the immense intellectual pool of this country, of highly experienced professionals, who shied away from politics due to the difficult terrain of political life.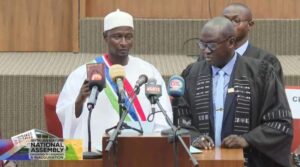 Such appointments would have encouraged our minds into politics or provide them with opportunities to share with this country some of their immeasurable wealth of knowledge and experience, to the benefit of our country, our Parliament and democracy.
Such appointments would maintain a high level of competence, diligence, discipline and educate many Gambians who keenly follow parliamentary debates, and attract many more Gambians to such debates. For they would have gained the added input of these professionals that is quite often missed in our Parliamentary debates. These professionals would have further maintained neutrality in the position of a speaker and deputy speaker, which are crucial to the functions of a speaker of any parliament comprised of differing political views. But the utterances of Fabakary Tombong Jatta, even after he was sworn in as the speaker of parliament, proved his partisanship and total lack of understanding of what is expected of a speaker, which is neutrality.
Furthermore, one would have thought, even if his appointments were not innovative enough as wished above, President Barrow would have at least adhered to the convention, tradition or customs of such presidential nominations for parliament, as established by his precedent, to afford representation to minority groups or sections of our society whose wishes may not be reflected through elective representation due to their minority status, but whose voice is equally important. These nominations are usually reserved for minority religious and ethnic groups, the youths, the disabled members of our societies, etc. to have representation and a voice on policy matters. This has been the practice which has been established, recognised and adhered to even by Yahya Jammeh. Currently, The Gambia's parliament has no Christian member, an important segment of our society. That is a first since independence.
However, President Barrow's actions, which are out of step with both novelty and convention, and borne out of what many describe as his spite for the United Democratic Party's comback performance against his NPP in the legislative elections, stooped to an all time low for a President of this country by nominating some of the most unfit candidates for school caretaker positions to the most honourable membership of our National Assembly. It's undoubtedly one of the worst decision in his long list of worse decisions morally and a most terrible decision for our democracy, consequences of which will reverberate for generations.
The worst of it all, is that the President's nominations are a betrayal of the wishes and aspirations of the Gambian people. The Gambia truly deserves better than such nominations and President Barrow needs to put the wishes and aspirations of the Gambian people foremost ahead of his political agenda.
The United Democratic Party is determined to be a permanent political force with an uncompromising desire to ensure the rule of law is adhered to, the sooner he learns that fact, the sooner he can get to the business of serving the interest of Gambians and do away with his futile effort of trying to stop the UDP.
Written by UDP Media Response Team