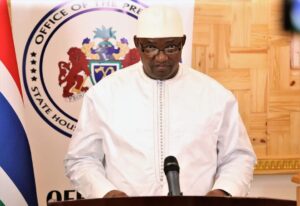 Gambians have been left familiarizing themselves with a newly minted cabinet since its members were named by President Adama Barrow on Wednesday.
One political commentator described it as a mixed bag of old and new faces, some ticked off as just okay, others not too suitable for the running of the day to day affairs of the country.
Barrow's strategy has been to keep faith with some old faces and tinker with the new.
And in a cabinet of 18 minister, only three women have been appointed as ministers, leaving gender activists training their canons on Barrow.
While his retention of former Information minister Ebrima Sillah albeit in a new role as Transport, Works and Infrastructure minister suggests this, his appointment of Baboucarr Ousman Joof to head the Public Service, Administrative Reforms, Policy Coordination & Delivery struck a popular chord with many Gambians.
Joof is widely respected in The Gambia as a seasoned educationist who carved a niche for himself with the trail-blazing introduction of the highly creditable teachers' credit union in the country where he has left an indelible imprint.
His is a household name among the country's past and current generation of teachers many of whose fortunes have witnessed a radical turnaround thanks to their Joof-propelled credit union.
Another inclusion in the cabinet that is seen as widely seen as appropriate is the appointment of Serign Modou Njie who replaces Sheikh Omar Faye as Defense minister given the general concerns over the flagging fortunes of the country's security since the advent of President Barrow in December 2016.
Many say Njie's appointment could offer a welcome breath of fresh air to the ministry which has been under pressure to unravel a spate of security incidents especially at the country's border with the restive southern Senegalese province of Casamance where the embers of a separatist conflict have been burning since 1982.
Perhaps the surprise package from Barrow's latest cabinet is the appointment of respect academic Alieu Badara Joof as the country's vice-president.
While Joof has been in cabinet for the past five years as Higher Education and Research minister, many did not see his ascension to becoming the country's number 2 citizen although he was one of the few old faces many thought deserved to be given another shot in public office.
Aside from five other new faces to the cabinet another new development has been Barrow's unexpected decision to decouple the Information, Communication Infrastructure ministry and pad them into two separate ministries.
Under the new arrangement, there is a new Information ministry led by new man Lamin Queen Jammeh and a separate one for Communication and Digital Economy.
The lowdown from Barrow's latest cabinet looks like this.
Vice President – Alieu Badara Joof
Attorney Gen & Min of Justice – Dawda Jallow
Foreign Affairs – Mamadou Tangara
Finance & Economic Affairs Seedy Keita
Defense – Serign Modou Njie
Interior – Seyaka Sonko
Tourism & Culture – Hamat NK Bah
Lands & Regional Govt & Religious Affairs Abba Sanyang
Agriculture Demba Sabally
Transport Works & Infra – Ebrima Sillah
Health – Dr Ahmad Lamin Samateh
Basic & Sec Education Claudiana Cole
Gender, Children and Social Welfare Fatou Kinteh
Petroleum & Energy Abdoulie Jobe
Fisheries & Water Resources Musa S. Drammeh
Higher Education Research Prof Piere Gomez
Environment & Climate Change Rohey John Manjang
Youth & Sports – Bakary Badgie
Trade being overseen by Seedy Keita
Public Service, Administrative Reforms, Policy Coordination & Delivery – Baboucarr Ousman Joof
Ministry of Information Lamin Queen Jammeh
Ministry of Communication & Digital Economy – TDB SG & Head of Civil Service – Salimatta E. Touray
Chief of Staff – Modou K. Ceesay
(WN/as/APA)