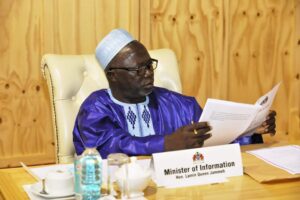 Despite the preponderance of evidence that former President Yahya Jammeh has brutalised Gambians and non-citizens for several years, President Adama Barrow's information minister is in denial of Jammeh atrocities.
Information minister Lamin Queen Jammeh suggested that unless validated by a competent court of law, the allegations against Jammeh at the TRRC would remain the 'allegations they are'.
The minister was this morning on the widely-listened to Coffee Time With Peter Gomez.
According to minister Jammeh, though Freedom Newspaper was the staple of many government officials like him, it never crossed his mind that most of the atrocities reported there such as rape and sex predation attributed to his former boss were true.
He said he's still sitting on the fence as far as the body of evidence rendered at the TRRC is concerned.
"Up to now, I know that revelations were made in the TRRC many of them accusing Jammeh of violation.
"I'm yet to take any conclusive answer until it is decided by the courts. Alright! So far…we know we have heard from many Gambians unfortunate scenarios, a lot of unfortunate scenarios but to materially stand and take any decisive position… That is why government is ready to implement the recommendations of the TRRC; the clear intent of which is to establish beyond reasonable doubt the accusations that were levelled against him (Jammeh)."