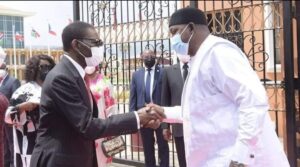 There was a time in the recent past when The Gambia and Equatorial Guinea were never mentioned in the same breath but all that changed in the aftermath of the post-electoral dispute in 2016 which triggered a political crisis in mainland Africa's smallest country.
The dispute eventually ended with defeated incumbent Yahya Jammeh who had led The Gambia since a military coup in 1994, fleeing into exile in the Equatoguinean city of Magombo, thus changing for ever the diplomatic dynamics between the two countries.
Since 2017 the things that bind Banjul and Malabo together have captured the imagination and led to theories about why Jammeh who was widely seen as a mercurial despot could so comfortably find refuge in Equatorial Guinea.
The suitability of the island nation perched in what looks like the armpit of Central Africa to host Mr. Jammeh may not be too far fetched after all given that Equatorial Guinea's own leader Teodoro Obiang Nguema had a similarly infamous reputation as an iron-fisted strongman giving his critics a raw deal in autarchy.
It's like attracting like, said a local Gambian commentator following Obiang's decision to take in Jammeh when the rest of Africa and perhaps the world showed less interest in rehabilitating let alone accommodating the latter who had caused the ire of public opinion thanks to the mercurial style of his 22-year rule.
It's against this searing backdrop that President Adama Barrow, the man who defeated Jammeh in the polls in 2016 made a surprise trip to Malabo albeit under the guise of an African Union Summit which incidentally was looking into the unconstitutional change of government that had swept through the continent in recent times.
Through the course of the last 18 months, military insurrections had looked fashionable for countries, ranging from Guinea (Conakry), Mali, and Burkina Faso in West Africa and Sudan in East Africa.
It was natural that Barrow being a harbinger of Gambia's newfound "democratic wind" should find his place in such a gathering where the handiworks of dark anti-democratic forces were being examined.
However, there may have been more to Barrow's sojourn to Malabo than meets the eye, according to some forensic observers of relations between the two countries.
He was also there on what his office called a one-day working visit with Jammeh's protégé Obiang, the highpoint of which was the signing of a series of bilateral agreements between Banjul and Malabo.
Then came the summit which kicked off with 18 other African heads of state in attendance including Barrow who it must be said preceded them to Malabo.
Out of nowhere relations that were dormant if not lukewarm for the best part of the two countries' history as independent nations suddenly picked up steam – even culminating in Obiang making a personal commitment to the effect that his government would buy Gambia's main cash crop groundnut in subsequent trade seasons.
This was one of the salient trump cards Barrow brandished after he'd left Malabo, leaving the finer details and import of his trip to sometimes unreasonable conjecture.
In such a climate of speculation, theories have been darting back and forth around the suspicion that Jammeh may have emerged from his sequestered life in exile in Magombo to visit with Barrow.
Back in September 2017, then Information minister Demba Ali Jawo confirmed that a meeting took place on the sidelines of the UN General Assembly in New York between Barrow and Obiang and that Jammeh may have been the subject.
"We know that Equatorial Guinea has a Gambian guest, and their discussion may have been centred around him but I cannot confirm this as it was a closed-door meeting" Mr. Jawo had told journalists.
A lot has passed since then.
However, this supposed Barrow-Jammeh meeting would appear disingenuous given the timing of the alleged encounter coming just days after the government outed its white paper on the recommendations of the truth commission which urges prosecution against the "Gambian guest in Magombo" and his proteges for human rights violations visited on their victims.
The position of the government according to the white paper is not to spare Jammeh and his henchmen for egregious crimes which included premeditated killings, forced disappearances, rape and torture.
These crimes feed into a disturbing character profile of the former Gambian leader, all of which may have informed his decision to seek refuge in Equatorial Guinea instead of staying put like other leaders would relish after losing power.
Many say it would therefore be out of character for Barrow to cavort with the former strongman when one of the processes for transitional justice looks to be closing in on Jammeh and those who allegedly helped him write in blood and tears some of the darkest chapters of Gambian history.
At this point though, everything else is painful conjecture.
(APA)