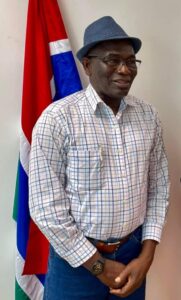 The newly-appointed Gambian ambassador to Turkey is in the grapevines again not in connection with the death of ambassador Dawda Fadera but the manslaughter he allegedly committed nearly five decades ago.
Alkali Conteh was sometime this year cleared of any role in the death of Gambian ambassador to the US after he was widely alleged to have poisoned the ex-diplomat.
The top National Peoples Party (NPP) official and now Gambia's ambassador-designate to Turkey has come under the firing line again as far as doleful affairs are concerned.
Some of those, who knew Mr. Conteh in Kerewan in the 70s, have made claims that when they take the memory lane several years back in Kerewan, their minds are sometimes invaded by the memory of the day when the new Gambian ambassador to Turkey allegedly flogged a student to death.
Conteh was at the time reportedly posted to the regional capital of Kerewan as a school teacher.
"It was a sad day for many students,"an ex-student of Kerewan school said he could recollect.
"It was a flogging that was not only humiliating, tortuous and punitive beyond acceptance but deadly," a native of Kerewan claimed he could remember.
"The day is etched in my memory like how so many could vividly remember it," said another.
But Alkali Conteh told JollofNews that the truth about the entire issue shall prevail.
"I don't respond to frivolous talks. You have seen the case of former ambassador but the truth shall prevail," he pointed out.
"If at all it happened in the open and I was not fired until I retired? Go to education or justice ministries to see whether I have such record there," he added.
To Conteh, if the manslaughter allegation against him could be relevant today as it was yesterday, then there's much more to it.
"You cannot be looking back all the time after outpacing in a race," the senior NPP official emphasised.
"I never responded to the allegations since Pa Nderry's time and I am responding because you made lot of efforts. Nice talking to you," he stated.