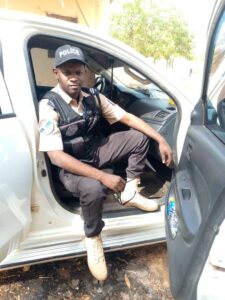 The Gambia Police Force (GPF) has warned that any member of the force found acting outside the ambit of the law will be dealt with accordingly.
The police have been forced into a damage control mode following JollofNews report on Friday that three men, who identified themselves as police officers, were going round shops in Old Jeshwang, seizing cigarettes from shopkeepers without booking them.
The Tobacco Control Act meantime criminalises the sale of single cigarette and the Tobacco Control Agency has already expressed the determination to enforce the ban in concert with the relevant security agencies.
But the police said on Saturday that it was not aware of any sanctioned operation in Old Jeshwang, regarding the implementation of the Tobacco Control Act.
"We did not sanction any operation in Old Jeshwang, concerning the enforcement of the Tobacco Control Act," Deputy police spokesperson, Inspector Alieu Jamanka, told JollofNews.
"And, we'll not condone any act that will bring the police into disrepute.
"The police is a professional force determined to safeguard the rule of law.
"So, we would not allow anyone to roll back the several decades of excellent service that the police have rendered and continues to deliver in line with our mantra of providing security for all," he stressed.
"We are not going to allow anyone to smear the good reputation of the IGP and his hard-working men and women," the deputy police spokesman pointed out.
Inspector Jamanka consequently urged the public to be cautious of people acting outside the law and report them to the relevant authorities.
Corrigendum:
Our attention was brought to the fact that the taskforce for the enforcement of the Tobacco Control Act was on the ground but the deputy police spokesperson Inspector Alieu Jamanka clarified that he could not say whether the three men accused of stealing cigarettes in Old Jeshwang were indeed part of that team.