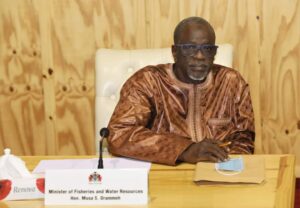 The Gambia government's inability to adequately police the territorial waters has been responsible for significant loss of livelihoods and drop in household nutritional statuses but the government said it is making serious efforts to police the waters despite its admission of incapacity.
The Minister of Fisheries, Hon. Musa Drammeh, was this morning involved in discussion with the Japanese ambassador to The Gambia to, among other things, seek the support of Japan in protecting the country's marine resources.
Meanwhile, the Gambia government has placed a ban on night fishing as part of measures to protect the dwindling fish stock.
But many described this as a tiny step among the many giant strides expected to be made by the government to ensure the population derive maximum benefit from the sea.
Though, the minister of fisheries admitted that the government lacks the capacity to properly police the waters, it was making serious efforts and some inroads towards this.
"We don't have surveillance boats. We can't control them(unauthorized fishing trawlers) if we don't have surveillance boats," the fisheries minister told JollofNews.
"We are exploring ways to tackle the issue. Yesterday (Wednesday), Diamond Shipyard in Holland came. We are talking to them and other partners," he added.
Meanwhile if wishes become horses, the Gambia government will procure surveillance boats before January next year.
"Government is making serious efforts. We want to get surveillance boats as early as before the end of the year because we want to control our waters. Very soon our waters will be adequately policed," he stated.
Be as it may, the soaring fish prices continue to pile enormous strain on many household budgets.
Prices have also been having immense toll on household nutritional statuses as they deprived many of protein obtainable from fish.
Meanwhile, the fisheries minister was speaking to JollofNews when contacted for comment (s) as public outcry over government's inability to adequately police the country's territorial waters grew.