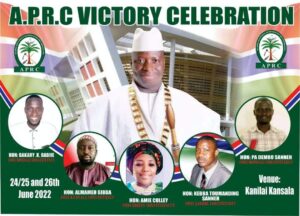 The planned APRC 'massive' victory celebrations, scheduled for today in Kanilai, has been cancelled, JollofNews was reliably informed.
Thousands of APRC supporters were expected to descend on Kanilai for a celebration of their surprised respectable performance in last legislative elections.
But APRC Babili Mansa No-to-Alliance officials have postponed the victory rally following the death of a family member of the party leader.
"The event will have to be rescheduled, unfortunately! The APRC Babili Mansa wishes to extend our sincere apologies for the inconvenience caused to all members of the party; non-members who planned to rock tonight's event and media houses that are already gathered in Kanilai," a statement from the party read.
"It is God's decree and there is nothing we can do about it," the party rued.
"We pray for President Jammeh and his family at this difficult time, and we pray for a safe passage for the late Karamba Jammeh, and a blessed resting place," concluded the statement.