For a very long time before the implementation of the GRA Revenue House annex project, the Commissioner General of the Gambia Revenue Authority (GRA) had envisioned a time in the revenue collection agency's history when demand for staff accomodations would be outgrown by the agency's growth potentials.
He then floated the vision to GRA's management and board and without hesitation, they sprung into action in 2017.
The management and board settled down to the task of constructing the multi-storey building at the agency's headquarters in Banjul to square up to its human resources and space demands.
The outcome of the actualisation of the vision is a magnificent edifice, which was handed over to the agency by Gamworks, last week.
The well-furnished and commodious offices and the staff to be occupying them are under the Alkaloship of the Deputy Director General of the revenue collection authority who will be moving there alongside the staff of GRA's internal affairs, public affairs among others.
The building boasts of all it takes for a convivial and conducive working environment.
It's also the most eye-catching structure in the entire GRA HQ now.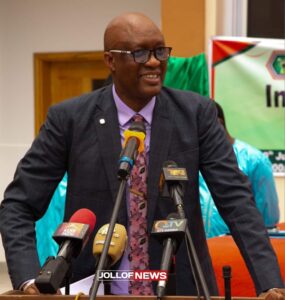 And, Commissioner General Yankuba Darboe light-heartedly said he has grown jealous of his deputy, who'll be now calling the shots at the alluring structure as the Alkalo.
CG Darboe remarked at the inauguration of the building that since it was the most charming and alluring at GRA as of now, he has grown jealous of his deputy.
"My deputy will be the Alkalo here. I'm even jealous now," he light-heartedly stated and the laughter that ensued could be heard almost a kilometer away.
Meanwhile, before inaugurating the Revenue House annex shortly after unveiling GRA's upgraded version of Automated System for Customs Data (ASYCUDA WORLD), the Minister of Trade, Seedy Keita, acknowledged: "Within the space of one day, I am honoured to inaugurate two milestones. What I have seen here is a classical indication of foresight on the part of the management and the board."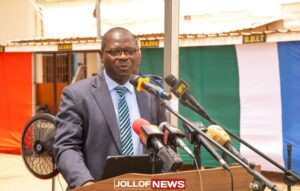 According to the trade minister, the move by GRA to partner with GAMTEL for the provision of fibre optics backbone for its new ASYCUDA WORLD as well as awarding the contract for the construction of the Revenue House annex to GAMWORKS make the agency a model to be emulated.
"I think GRA is a model that other institutions should emulate. While other institutions are struggling, GRA is thriving. I want other public institutions to emulate GRA," he challenged.
Meanwhile, the new Revenue House annex will also house the legal and board services department and procurement unit.
It boasts of a conference room as well.