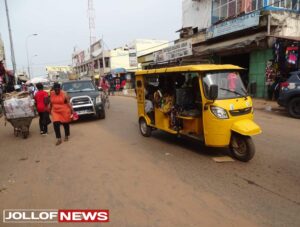 Tricycles have hit the roads again following a little more than two-week absence from the traffic.
The Gambia Police Force (GPF) earlier this month placed a ban on tricycle as a mean of public transport, citing the law, its susceptibility to road crashes and criminality associated with the tricycle sector as reasons.
Police said since tricycles were predominantly in the hands of non-Gambians, it was about time it was regulated in view of the rising criminal complaints around it.
This mode of transport has no insurance cover and the police said tricycles are prone to road accidents.
However following a reflection over the issue, authorities were approached for a change of heart, Commissioner of Mobile Traffic Unit told JollofNews.
According to Commissioner Lamin King Colley, since most of the tricycle owners have honoured their licensing requirements, it was deemed advisable under the circumstances to allow them operate till December when their licenses expire.
"This is the reason we approached the authorities to find a way out of this situation because we cannot violate our own laws," Commissioner Colley told JollofNews when contacted for comments.