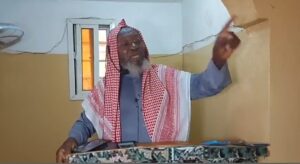 Imam Abdoulie Fatty has resolved that every stone would be turned to ensure Ahmadis are ejected from The Gambia.
According to Imam Fatty, Ahmadis could be tolerated in The Gambia only if they disassociate themselves from Islam.
"How many mission schools do we have here and no-one is complaining about them. You have St. Peter's, St. Augustine's, St. Therese's…saints, saints, saints but we have no problem with them," he remarked in his last Friday sermon.
"Ahmadiyya are undermining our religion. Let them stop interpreting the Qur'an anyhow. The Ahmadiyya would be fought until they retreat through the sea," he vowed.