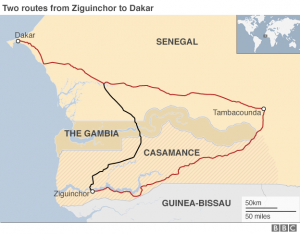 Senegal's Minister of Finance and Budget was before MPs for the closing of the 2021-2022 ordinary session of the National Assembly.
By Edouard Toure
In ten years, the budget of Senegal has made a strong progress.
Thus, it has increased from 2,452 billion FCFA in 2012 to 5,556.7 billion FCFA in 2022.
For 2023, it is projected at more than 6,000 billion FCFA, according to Minister Abdoulaye Daouda Diallo.
"The upward trend of the budget is based on the performance of the reforms undertaken since 2012 as part of public finance management and the strengthening of the structural bases of the economy, in particular through the implementation of the Senegal Emerging Plan (PSE)," Mr. Diallo told parliamentarians on Thursday, June 30.
He stressed that the PSE, the flagship scheme for the government's economic and social policy, has allowed the realization of important social infrastructure, but also structuring programs for the construction of strategic economic infrastructure, in particular, in the transport and energy services sectors, which must serve as a basis for sustaining growth.
Diallo explained" "This has resulted in significant progress, including the increase in per capita income, i.e. gross national income divided by the number of inhabitants, which rose from US$1,238 in 2015 to US$1,467 in 2020 (by convention, this indicator is calculated in US dollars to facilitate international comparison).
Diallo said that the poverty rate has dropped by five points, from 42.8 percent in 2011 to 37.8 percent in 2018/2019.
In the fight against extreme poverty, the results obtained are, in his opinion, even more encouraging since the rate has dropped from 12.2 percent in 2011 to 6.8 percent in 2018/2019.
Over the period 2023-2025, which corresponds to the scope of the Multiannual Budgetary and Economic Programming Document, he announced that the average growth rate will be 7.8 percent, with a peak of 10.5 percent in 2023, thanks to the start of the exploitation of Senegal's hydrocarbon deposits.
"Over the same period, inflation will average 3.8 percent, which is slightly higher than the ceiling set by the West African Economic and Monetary Union (UEMOA), which is 3 percent but it is easy to see that our country is very close to the norm," Abdoulaye Daouda Diallo explained.
APA – Dakar (Senegal)