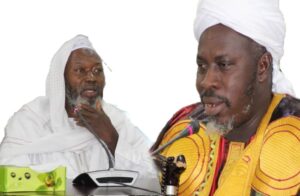 Imam Abdoulie Fatty has advised controversial preacher Ba-Kawsu Fofana to show moderation in his actions as he wondered how Ba-Kawsu could take in a fifth wife.
Imam Ba-Kawsu has reportedly tied the knots with his fifth wife almost 11 months ago, despite opposition from some members of the wife's family.
However, Imam Fatty told Star TV Nayaa Kacha that it was not too late for Ba-Kawsu to 'repent for his excesses'.
"People holding his overflowing gowns for him, placing his feet on heads of his students and marrying five wives," he wondered.
"From where," he queried.
The former State House mosque Imam pointed out that it was not though late for Ba-Kawsu to 're-embrace the unadulterated Islam."
"Every human being makes mistakes. Let him repent, practice and propagate pristine Islam," Imam Fatty advised.