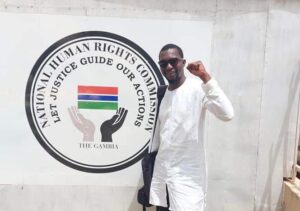 Gainako editor-in-chief has been released without charge, according to the President of the Gambia Press Union (GPU).
Mr.Yusef Taylor, widely known as Flex Dan, was reportedly arrested at around 6pm and detained for almost three hours.
According to sources, he was arrested while reporting on the arrest of Neneh Freda Gomez and Lamin Sey, who were earlier on Tuesday taken to Senegambia police station, as they reportedly attempted to visit the land in contention between government and Neneh Freda's agency; Global-HOMM.
Meanwhile GPU President, Muhammed S. Bah, has urged the police to endeavour harder in the creation of an environment conducive to the work of journalists.
"We want to remind the police to protect the rights of journalists in the execution of their duties," emphasized the GPU president.