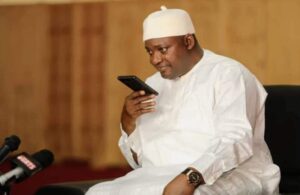 In October of last year, Mai Ahmad Fatty slapped President Barrow in the eyes by immediately returning the adviser role the President gave him but Mai announced on Sunday that he was now ready to work with the President.
"It's time to work. I think the gesture by the President is commendable," Mai said of Mr. Barrow's Saturday phone calls to leaders of the opposition and other political parties.
"I think this is the way-forward. We should take the second step and perhaps the President will take the third step and we'll take the fourth step. At some point, we'll meet together," he added.
Meanwhile, following a divisive 2021 general election campaign that many accused President Barrow's NPP of employing tribal politics to win voters, reconciliation moves, according to observers, were important.
And to Mai, a serious conversation must be built around the topic of reconciliation.
"So, the President has reached out to the opposition by initiating a phone call," Mai pointed out.
"Everything begins with a step. It's a good step, an important step in the right direction," he stated.
He added: "Picking the phone to call Honourable Mai Fatty and other political leaders… I think it's an act of leadership.
"I think the desire is to reconcile our people, the desire is to unite. I think let us put everything behind us and come together and move together as a country. It's time to work."