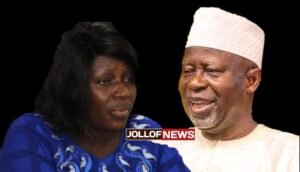 The defeated National Assembly Member for Tallinding has been infuriated with the way UDP leader felicitated her opponent.
According to Fatoumatta Jawara now nominated member of the National Assembly, it has always been Ousainou Darboe who brings her trouble not the other way round.
"Any good Muslim knows fully well that he (Ousainou Darboe) is the one taunting me because he stood up and said he had truncated my tongue and lot of unsavoury things," she fumed.
"He also made a public statement that he was excited by my electoral defeat and said he would thank and congratulate my opponent for his victory over me," she complained.
According to Fatoumatta Jawara, her opponent was a soldier busy tormenting Gambians whilst she cried, her blood spilled and some of her colleagues murdered.
She went on to say: "That man (UDP's Musa Badjie) he is celebrating today was in the army, bullying Gambians.
"I laugh him off when I heard him say what he uttered. You (Ousainou Darboe) gloating over my defeat! How about yourself who've been unsuccessfully trying for the past 22 years? At least, I served the people of Tallinding for one five-year mandate."