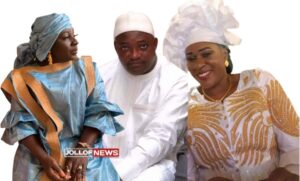 Senior NPP official Maimuna Ceesay indicated over the weekend that President Adama Barrow was terrified of Baddibu, arguing that the NPP leader has lost all hope in Baddibbu due to its unshakeable opposition to his government.
She added that the President was of the opinion that Baddibunkas would remain obstinate in their opposition views.
"When I told the President that I was coming to Baddibbu, he just laughed and I laughed. He jokingly told me your people will never change. But this is not funny. He said he's terrified of Baddibu," Ms. Ceesay lamented.
Baddibbu Katanga
Maimuna Ceesay, herself a native of Baddibu Kerewan, contented that her people have been given the false sense of being the country's traditional opposition heartland.
"That makes you Katanka? This is unenviable. Others will indeed embrace what you refuse to accept," she stated.
Fatoumatta Jawara Vs Lawyer Darboe
According to Maimuna Ceesay, Lawyer Ousainou Darboe could not surprise her more when he put pen to paper for the expulsion of Fatoumatta Jawara from the UDP.
"Fatoumatta Jawara should not have been expelled from the UDP. She didn't go to jail because of misconduct or vagabond. She went to jail because she was desirous of Ousainou Darboe becoming a President. Ousainou was worth everything to her," she told the people of Kerewan as she went there alongside Fatoumatta Jawara and Alhagie Jawara to prepare hearts and minds ahead of the local government elections.
"The day they (UDP supporters) were being taken to court, Fatoumatta's death was already announced. She was between life and death. So if you (Hon. Ousainou Darboe) don't acknowledge her deeds today, recompense her good deeds of yesterday, at least," she charged.