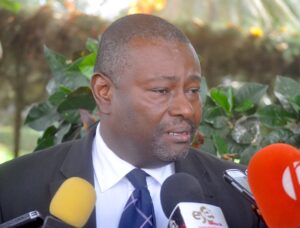 In an embarrassing turn of events, the National Human Rights Commission (NHRC) has been forced out of its cocoon to offer a public statement on government's flagrant violation of the rights of Global-HOMM following its suspicious quietude over it.
Readers may recall that JollofNews earlier this week hauled NHRC over the coals for sidestepping its key responsibility, without which, we would've not been bankrolling the institution from the country's meagre resources. Read more: https://jollofnews.gm/2022/07/19/editorial-barrow-is-the-main-threat-to-gambias-democracy-nhrc-is-eerily-quiet/
The NHRC was strangely quiet while President Barrow and his government insist on stealing Global-HOMM's property.
But the Chairman of the commission in a rather too- little, too-late interview with Coffee Time With Peter Gomez on Thursday said: "We are a watchdog and we talk to civil society, government and the National Assembly. Sometimes, they don't like what we say but we have to flag these things up.
"We have been given the mantle of bringing back the culture of the rule of law in this country. And, we will do it whenever necessary. So, you will be hearing from us all the time. And, we are everywhere because this is our mandate."
Meanwhile, the question which arises is: if at all NHRC is everywhere and committed to the restoration of a rule-based society, why should it take a scathing social media criticism for it to break its reticence on the Global-HOMM issue?