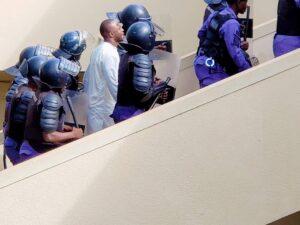 The rape trial of Bubacarr Bob Keita took a twist on Monday when the Banjul High Court set Wednesday to rule on Keita's attorney's stay of execution application over DNA.
This followed deep public suspicion of foot-dragging on the part of the courts.
Lawyer L. S Camara filed an application for a stay of execution of the July,7 order issued by Justice M.M. S Jallow for the conduct a DNA test.
After arguments on points of law by both defense counsel L. S Camara and state counsel Patrick Gomez, the matter was set for resumption on Wednesday when the judge is expected to deliver the ruling on the defense lawyer's application.