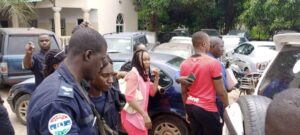 The besieged ex-wife of Bob Keita, Sainabou Mbye, has been remanded in pre-trial detention at Mile II after she was charged Tuesday with manslaughter.
Her brother Cherno Mbye and a family friend Kibili Dambelley were also sent into presumptive detention at the State Central Prison on Tuesday.
The trio was earlier on Tuesday arraigned at the Kanifing Magistrates' Court where they were charged with manslaughter.
The matter was meanwhile transferred to the Banjul High Court on jurisdictional grounds.