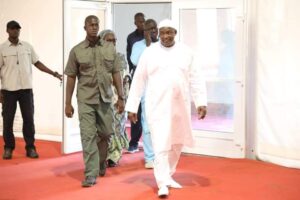 At a time when thousands of Gambians reel from the devastating impacts of last weekend floods, President Adama Barrow is going on break this Friday.
He will be out of office for 15 days.
President Barrow's annual leave coincides with floods that have devastated homes.
Communities are currently submerged in flood waters.
Hundreds of people are currently living in emergency shelters.
Hundreds are also in dire need of urgent humanitarian assistance.
Fears of waterborne diseases have also been raised by officials of the health ministry.
"I don't think this is the right time for President Barrow to take a break, no matter, well-deserved," Ebo Town flood victim Matta Badjie opined.
"This is the time when people should look up to the President for leadership. He should be with us in our time of distress than taking a break from our problems," stated flood victim Sanna Badjie.
"It's inconceivable to me that President Barrow will opt to relax while we wallow in misery," Kujeh Sarr of Manjai told JollofNews.
However, the Presidency said on Wednesday that the 15 working days' leave is part of Mr. Barrow's annual leave entitlement.
No. 1 Marina Parade announced that the President will resume duties on 31 August 2022.