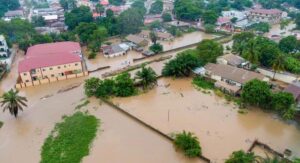 The National Disaster Management Agency (NDMA) is still assessing the extent of last weekend's floods as victims' needs for urgent humanitarian assistance mount.
Almost five days after torrential downpour caused devastating floods in some parts of the country, the central government has yet to make any noticeable humanitarian intervention.
Meanwhile, Basse Area Council on Wednesday launched a humanitarian appeal to the Barrow government, philanthropists, business and international communities for urgent support to victims of the various floods.
The council yesterday responded to the immediate food needs of the flood victims in the regional capital.
Disinfectants were also doled out.
The Mayor of KMC, Talib Bensouda, has meantime recommended the transformation of all community centres in the municipality to emergency shelters.
He also called for the repurposing of all ward offices to support centres for flood victims.
In Banjul, NAM Modou Lamin Bah has succeeded in providing shelter for some of the people displaced by the floods in the capital city.
In West Coast Region, about 600 people have reportedly sought refuge in makeshift shelters and were in dire straits.
Meanwhile, it could take more time before the Gambia government makes proper relief interventions because NDMA is still busy collecting data.
Despite the much-publicized tours of some of the flood-hit areas by both the President and his Vice, nothing spectacular has so far happened in terms of government relief interventions.