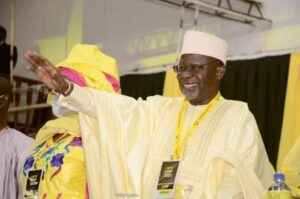 Gambia's opposition leader Lawyer Ousainou Darboe has fondly remembered the valour of four UDP women, who in 1996, resisted with their bare hands, the sheer might of the dictator's trigger-happy paramilitary thus paving the way for resistance to ex-president Yahya Jammeh's bullying tactics.
The quartet also conquered the fear for the terror of the dictator's advancing gun-bearing men.
UDP leader has been talking about them as he went down the memory lane on UDP 23 years of existence this week.
In 1996, UDP applied for a permit with the IGP to conduct a rally just opposite the main mosque in Banjul.
Their request was turned down but the party nonetheless went ahead with their plans.
The paramilitary was ready to be unleashed on them as they gathered at the venue.
He recollected: "They brought GRTS cameras and I know the reason was to film us as we retreat in disgrace.
"But that day, Aja Jambu Drammeh; she was the women's national president, Aja Fatou Secka, Aja Sukuna Kah and late Aja Marong (may peace be upon her soul) took out all their ornaments, strapped their bags behind their backs and assumed the frontline of resistance."
"Because of their resistance, the paramilitary gave us the room and protection to say what we wanted. It was the beginning of resistance to autocratic rule," Darboe reminisced in an interview with Yusupha Darboe on the occasion of UDP's 23rd anniversary this month.