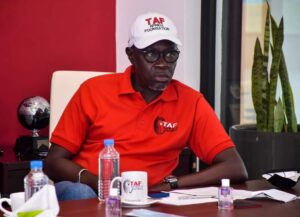 Nearly 48 hours after his tweet about how people should ponder over the toil he puts into making his wealth before approaching him for aid, realtor Mustapha Njie is still causing online uproar as he remains a subject of spirited social media discourse.
Taf, as fondly referred to, was one of the generous givers to worthy causes in The Gambia since his catapulting into fame in Jammeh days.
His last key milestone humanitarian intervention was in 2020 when he returned home to provide operational support to the country's Covid-19 fight.
Taf came back from his base in one of the African countries and built a Covid center as part of reinforcing the Gambia's Covid-19 control capabilities.
However in what many see as a sign of waning generosity and some as indication of haughtiness on the part of Mr. Njie, Taf has succeeded in generating a social media storm.
He has apparently estranged some of his former admirers when he tweeted that he was 61 years old and worked 8hrs a day under the hot sun of 35 degrees.
"Just take time to think about how hard I work to earn a living before asking for donation or sponsorship," Taf tweeted on Friday.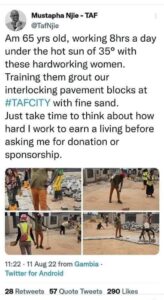 It was not clear in the tweet as to whether one of the country's richest men has been fatigued by the many years of giving or was just attempting to spread the gospel of hard work.
If the latter was his objective, his tweet has made an opposite impact on many of his followers.
"Not denying the fact that uncle Taf works hard but one need (s) to put (into) consideration that we have very hard working men and women out there who even work harder but gain less," Ebrima Jadama commented on the controversial Taf tweet.
"I don't know who they will ask from if they can't ask from the rich people," another commentator Babadingding Darboe wrote.
Janko Kanteh commented: "Brother, you are not hard working than the women who wake up (at) 4am to sell produce Brikama market."
Abdul Aziz Badjie also commented:" Give a helping hand. If it's genuine, it will not diminish anything from your wealth."
"Let them ask. They will ask. If the cause is worthy, give what you can and when you can," Muhammed H. Loum commented.
"Some work hardest,sweat more under the sun,lose more calories yet they cannot even feed their families," commentator Batch Cham sought to remind the once generous Taf.
"Don't let your wealth make you think you're better than the person asking for a donation or help. It could have been the other way round," Assan Bojang summed up his feelings in these lines.
Meanwhile, Taf's tweet has also rekindled online discussions on how his acquisition of vast chunk of relatively cheap land from poor farmers in Brufut has overwhelmingly contributed to his wealth creation.