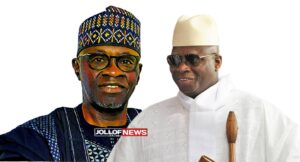 The late Dr. Momodou Max Jallow was among key figures in Brufut who felt Taf was grabbing their lands and he was not quiet about it.
In 2000 or thereabouts, I received a call from Max as he was fondly called that there was to be a huge protest in Brufut against Taf and that he wanted me to be on the ground.
But days before the planned protest, I travelled to Brufut and really found out that the community was about to implode with rage over how they felt their lands were being given to Taf.
Many of my interlocutors accused the late Alkalo Alhaji Kalifa Sano of being at the whims and caprices of former President Yahya Jammeh to take their lands.
Many thought the late Brufut Alkalo would do anything at that time 'to please Yahya Jammeh to please Taf'.
I put these allegations to the late Alkalo Alhaji Kalifa Sano but he debunked them.
When I wrote an article about Brufut/Taf land imbroglio, I got a call from the Alkalo's son, Yankuba, who politely invited me back to Brufut.
When I got back, we had almost three hours of enlightening conversation about lot of issues.
But at the end of the three or so hours of the friendly discussion, I realized that there was more to this Brufut land issue than meet the eye.
And unsurprisingly when the day for the planned demonstration came, no protester was in sight.
I later learned that most of those, who planned to hit the streets against Taf, did not show up because it would be seen as a protest against Jammeh.
And, the outcome could've been everyone's guess.
So, some reverted to other plans.
Why Would The Planned Brufut Protest Be Treated As Recalcitrance Against Jammeh?
Check Out…………..